Birmingham School of Bell Ringing – the return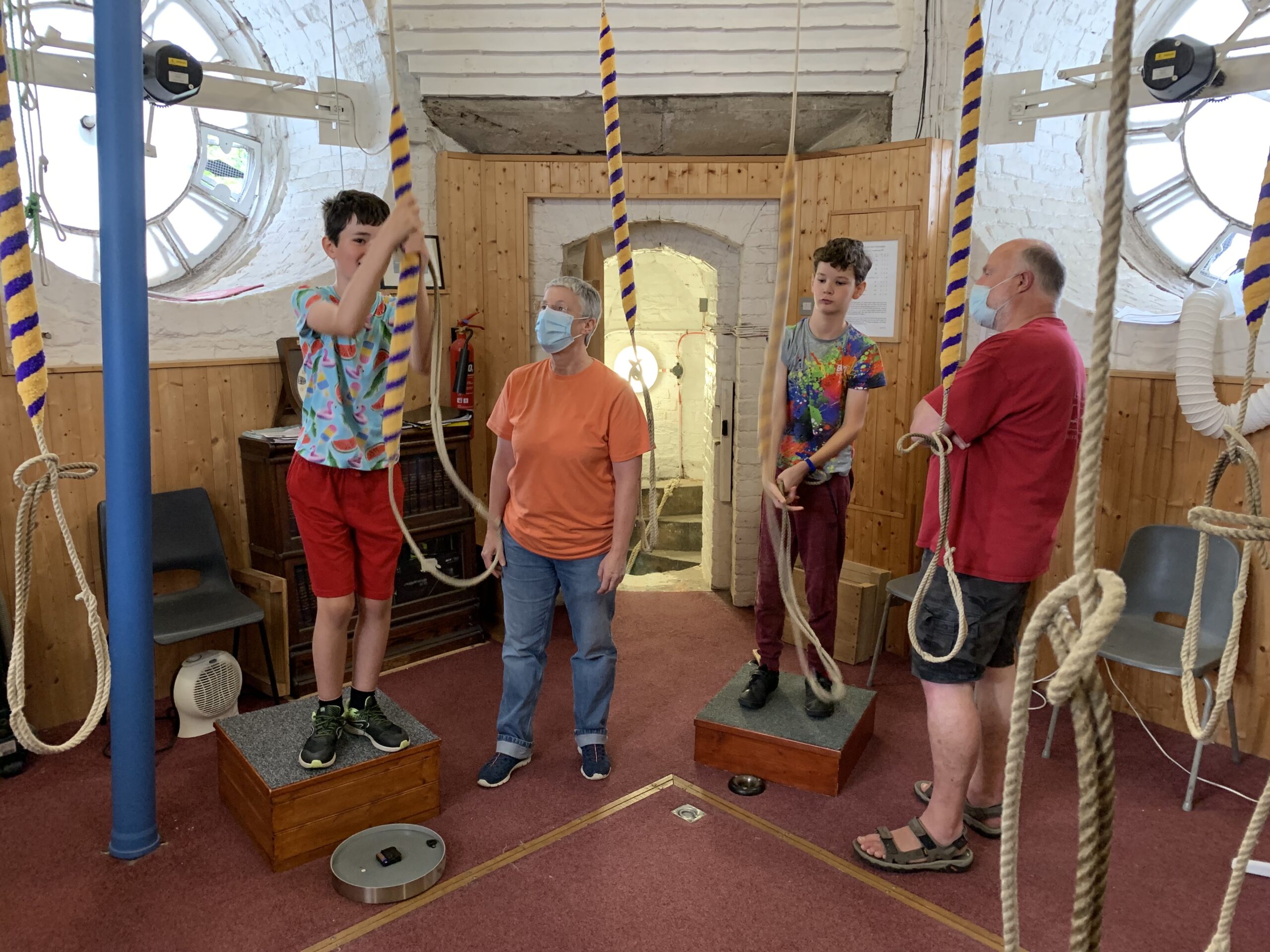 After an 18-month gap, School sessions resumed on Saturday 18 September. In some ways, starting again was very much like our original launch in 2013 – two towers, covering two skills, with a small number of students. Except this time we have the benefit of 8 years of experience behind us, which has given us the confidence not to worry that the School is not operating on the scale that it did before ringing was suspended. We know that we have very good foundations on which to build.
The cessation of ringing has given us a chance to look at certain areas of the School and we have implemented some changes to the way that it operates. We are confident that we will be able to run three towers a week from November. The bell handling tower will, as it did before, run every week, teaching people the basic bell handling skills (Level 1) and making sure they have a home tower. The second tower, teaching Level 2 students will run from September to January. In November a group at a higher level will begin. The sessions will run as "courses" with a 16-session duration.
18/09/21 Level 1, St Paul's
18/09/21–15/01/22, Level 2, Harborne
06/11/21–05/03/22, Levels 3&5, Northfield
22/01/22–14/05/22, Level 4, tower tbc
We are introducing some new roles – each cohort of students, as well as a tutor, will have a pastoral manager as an additional point of contact with whom to discuss progress or any issues. We hope also to be appointing an outing organiser to facilitate regular social outings locally to keep people connected whether they are currently taking a course or not. In addition, we have ambitions to appoint a quarter peal organiser, to facilitate the arrangement of developmental quarter peals for students as and when they reach the appropriate stage and competence at the higher levels.
We are really pleased to welcome new tutors Eleanor Linford and Andrew Brown to the teaching team. Having taken ART teaching modules, they are benefitting from using the School as a platform to hone their teaching skills, mentored by our tutors, to secure their accreditation as ART teachers. We have always been keen to mentor new teachers – if you have ever thought about learning how to teach, why not consider the support that we could offer by mentoring you and even funding your teaching course?
We are really grateful to all the faithful helpers who have signed up again to help on Saturday mornings, and by November they should all be back in the swing. However, that's not to say that we don't need any more helpers. We are keen to welcome new people onto the team. Helping does not have to be an onerous commitment, we are grateful to anyone who can offer help, however infrequent. Some helpers sign up to help nearly every week, but others may just commit to helping once a month or once every six weeks, or just being on stand-by in case we are short.
If you feel you can help on Saturday mornings you would be most welcome. Please get in touch at bhamsor@gmail.com if you can offer us some of your time. Clare McArdle